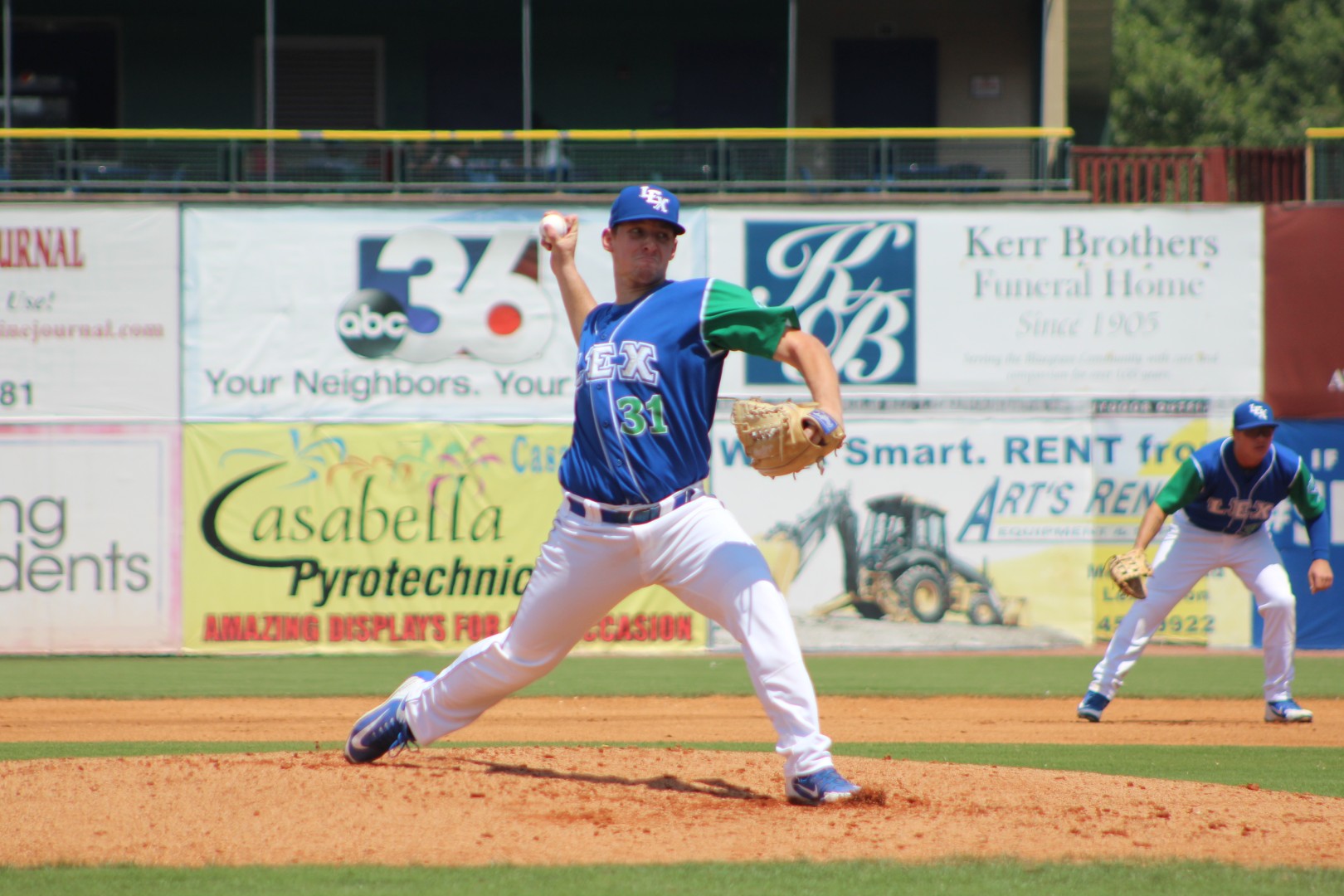 Here, we'll take a look at the Lexington Legends rotation which includes the Royals 4th selection, Kris Bubic.
The Royals made starting pitching a point of emphasis in this past years draft selecting college level arms with their first 4 picks. The draft class was highlighted by guys like Brady Singer, Jackson Kowar, and Daniel Lynch.
Kris Bubic (LHP)
Bubic has been absolutely dominating Class A hitters. Through 7 starts this year he is 3-1 with a 2.27 ERA. During that time he amassed 59 strikeouts in only 35.2 innings pitched to go along with 11 walks. That translates to an eye-popping 14.89 K/9 to go along with a 2.78 BB/9. On top of that Bubic has held opposing hitters to a 0.164 batting average and holds a 0.90 WHIP. His most recent start saw his control wane a bit as he walked 4 but he also struck out an eye popping 8 through only 3.2 innings. Bubic isn't overpowering with his pitches but he has plus command of a 3 pitch arsenal (fastball, change, curve) that coupled with a unique delivery, allows for a lot of arm speed deception to keeps hitters off balance. There really isn't too much more to say. It seems there is little left for Bubic to prove against Class A competition and as Alex mentioned last week, I don't expect him to remain in Class A for much longer.
Charlie Neuweiler (RHP)
Well hello there, Chuck Nasty. As I'm writing this, Neuweiler just wrapped up an impressive 6 IP, 2 H, 0 ER, 3 BB and 7 K performance. That start follows up back-to-back 9 K games might I mention. So, needless to say Neuweiler has been rolling as of late. Through 8 starts (44.0 IP) this year he is 1-2 with a 2.86 ERA, 20 walks. 45 strikeouts and a 1.16 WHIP. Opposing batters have managed a measly 0.194 average against him. Now hold on to your butts when I before you read this part, barring one bad 2 IP and 5 ER start, Neuweiler would be sporting a pristine 1.93 ERA in 42 IP with 44 K to 16 walks. Breaking it down a bit further, through his first 3 starts, Neuweiler had 12 IP, 7 ER, 12 BB, 8 SO. Since those first 3 starts, he's thrown 32 IP, 7 ER, 8 BB, 37 SO. So what changed? Neuweiler has always struggled with control with a BB/9 of 4.14 through his 2018 campaign and it seemed to bite him again to start this year. Following his shortened third start blow up, it seems that Neuweiler has figured something out allowing him to command his pitches better, attack the strike zone and keep hitters off balance as evidenced in the jump in his strikeouts in recent starts. The stuff has never really been a big question with Neuweiler it's the command. If he can continue to limit his walks and attack the strike zone, this is going to be a big year for Neuweiler. He is one to keep an eye on.
Austin Cox (LHP)
Austin Cox was the 6th pitcher selected out of the 2018 amateur draft by the Royals and he is someone the organization believe they got an absolute steal in. Making his pro debut in the Rookie ball Appalachian League, Cox overwhelmed hitters striking out a whopping 51 batters through 37 innings pitched (9 starts) while walking 15. He pitched to a respectable 3.78 ERA holding opponents to a 0.228 average against. What was most impressive though was the uptick on his velocity which should serve him well. So far in 2019, Cox has made 7 starts (37.0 IP) with a 3.89 ERA to go along with 39 strikeouts and 14 walks. Opponents against are hitting a paltry 0.204 average. His peripherals would indicate he's pitched much better than the 3.89 ERA he currently sports. Minus one hiccup start where he allowed 5 runs and 5 walks in 4.2 innings, Cox would be rocking a cool 3.01 ERA. There are instances where he's shown absolute dominance with his plus command and 4 pitch (fastball, slider, power curve, change) repertoire including his most recent start on Sunday that saw him go 7 innings of 3 hit ball to go along with 0 runs allowed, 0 walks and 8 K's. This is the version of Cox I expect to see more often than not and he has the stuff to dominate. There is a lot to like about Austin Cox and I would like to continue to see him consistently make quality starts while limiting walks.
Jonathan Bowlan (RHP)
Next up we have the big 6'6", 262 lb Memphis product, Jonathan Bowlan. Bowlan was selected by the Royals in the 2018 amateur draft after Bubic and wound up pitching to the tune of 1-4 record with a 6.94 ERA, 9 walks and 23 strikeouts through 35.0 innings in an shortened season with the Idaho Falls Chukars in Rookie Ball. A heavy college workload and arm fatigue led to a premature ending to 2018 for Bowlan but the extended rest seemed to place the big righty back on track for success in 2019. So far through 5 starts this year, Bowlan has a 1-2 record with a 3.41 ERA to go along with 38 strikeouts and 6 walks through 34.1 innings. Opposing batters have managed to hit 0.216 off him. Notably, Bowlan has not walked more than 2 batters in any game this season and also has only given up 2 long balls as opposed to 6 through roughly the same innings last year. Often times with big pitchers, it's difficult to find consistency with so many moving parts but Bowlan has an easy, repeatable delivery that should help him stay in the zone. His arsenal consists of a low to mid nineties fastball, a plus slider with good break and a developing changeup to keep opposing batters off balance. For me, there may not be one thing that really sticks out for Bowlan but I think he does a lot of things well. I'm keeping an eye on Bowlan this season for consistency. I don't think Bowlan's ceiling is as high as Bubic, Cox or Neuweiler but I do believe he has a high floor if he can continue to make consistent quality starts. If he keeps it up, Bowlan can likely develop into a useful middle of the rotation type piece.
Zach Haake (RHP)
The next pitcher off the board following Cox was Zach Haake. I've reportedly heard that the organization is quite high on Haake and looking at the peripherals, I staunchly agree. He has been near unhittable so far in his pro career. He wrapped up his first taste of pro ball in 2018 with a dazzling 1.76 ERA, 4 walks, 14 strikeouts and a 0.88 WHIP through 15.1 innings between the Arizona and Pioneer Rookie level leagues. On top of that, opposing teams could only muster a 0.170 average against. Some regression was expected for 2019 with Haake moving up a level right? WRONG. Through 5 starts (26.0 IP) in 2019, Haake is 1-3 sporting a minute 1.73 ERA to go along with 9 walks to 36 strikeouts and a 0.88 WHIP. Hitters have only managed a paltry 0.159 against him so far. Early scouting reports on Haake indicated that he is dominant with his stuff through the first few innings prior to his command wavering as his outing progresses but he has done a fine job so far this year never allowing more than 3 walks while going at least 4 innings in each of his starts. Haake is currently on the IL but his most recent start on 4/27 saw his work 6 innings of 1 run ball with no walks and an impressive 12 K's. He's shown improved command since starting pro ball and works a nice mid-90's fastball coupled with a good breaking slider. If Haake can continue to dazzle upon his return from the IL we may be seeing him in Double A along with Bubic before long. Haake has considerable upside as a future rotation piece if he can prove to work deep into games to go along with his improved command and electric stuff. At very least, he should make for a solid reliever if starting doesn't work out.
Sources: Fangraphs.com, Baseballsavant.mlb.com, Milb.com
Photo Credits: Lexington Legends team website