Seeing as this is my first piece–and "Blue Rocks Report", there are a few housekeeping items to get out of the way.
For the past few years, I have been following the Blue Rocks whilst attending a nearby university. In this time, I have decided that enjoying a night or afternoon at the ballpark is not enough for me–and that is how I ended up here, at Royals Farm Report.
I plan to get these reports out on a fairly consistent basis. Hopefully this means weekly or bi-weekly—so stay tuned throughout the season. Since it is a few weeks into the season, I will solely discuss player performances to date in this post, as well as introducing the team. Moving forward, I will look at a mix of weekly and seasonal performances.
Finally, if you have any questions, suggestions, or players you would like to see me analyze—don't hesitate to leave a comment below.
The Team
It may not be this way for too long, but we are looking at a potential-stacked team to start the season. Jim Callas over at MLB Pipeline ranked them as the 6th most talented minor league team. In the table below, you can see how the team is ranked by our Top 75 rankings from the preseason, MLB Pipeline (overall and organization) and Fangraphs (organization).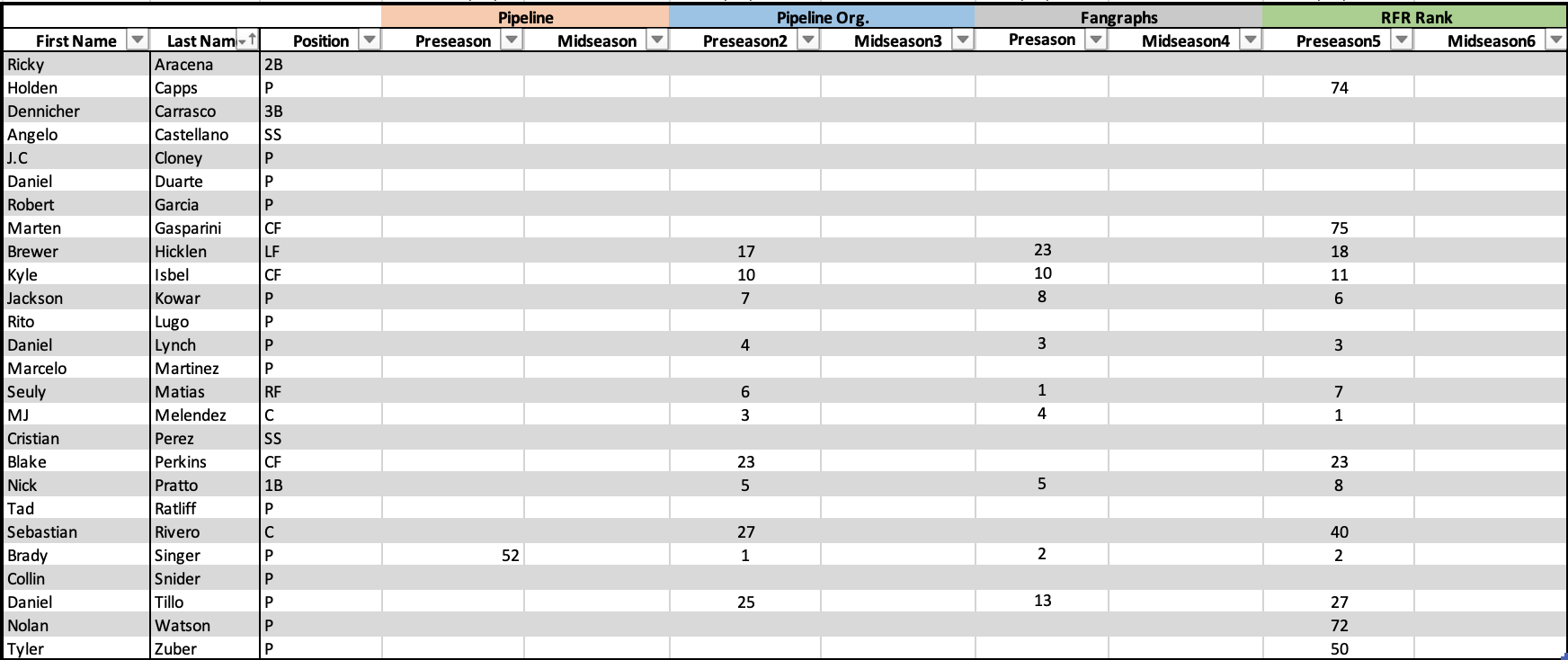 7 of the top 10 MLB Pipeline organizational prospects are starting the season in Wilmington. This includes last year's top 3 picks in Brady Singer (Round 1), Jackson Kowar (R1C) and Daniel Lynch (R1C). It also includes Nick Pratto (R1), MJ Melendez (R2), Daniel Tillo (R3) and Michael Gigliotti (R4), who were all selected in 2017.
The Good
Before I get into any statistics, here is my obligatory rant on sample size.
Amongst other factors, these are young players in a fresh season. While performances over 30-50 AB's or 8-10 IP could be indicative of a good start, it should not be used to determine anything that is "bigger picture". We can start to evaluate development and yearly performance as it gets later in the season.
Okay, first up:
Kyle Isbel:
RFR Top 75: #11, MLB Pipeline (KC): #10, Drafted Round 3, 2018.
2019 Stats: 11 G, .390/.444/.707, 2 HR, 5 RBI
Isbel continued turned his nice start from last season to a tear in this one. He ended the season in Lexington, slashing .289/.345/.434 through 159 PA. His biggest problem was the strikeouts, sporting a 24% strikeout rate. So far this season, the K's are trending downward. It is still at 18% through 41 AB. This still isn't great, but a nice improvement considering he is also facing better pitching. Once again, it is still early and I will track this number as the season progresses.
Otherwise, he is red hot—hitting mainly for but with flashes of power too. He has torn apart right handed pitchers especially, slashing .438/.500/.815 with 7 XBH in 32 at-bats. Is there potential for him at the top of the Royals lineup? Definitely.
Seuly Matias:
RFR Top 75: #7, MLB Pipeline (KC): #6
2019 Stats: 11 G, .278/.341/.750, 4 HR, 10 RBI
Seuly tore up A ball, hitting 31 homers in less than 100 games last season before suffering a freak injury involving luggage. Still, at just 20, his place in Wilmington is well deserved—and he is certainly proving this. The majority of his offensive production came this past weekend, including a 2-homer game (4 HR in the past 3). His raw power is apparent, and so is his strength:
Seuly Matias just struck out with the bases loaded and……. pic.twitter.com/J2gYvRckS3

— Royals Farm Report (@RoyalsFarm) April 12, 2019
Kidding aside, he is going in the right direction. We will see if he can continue this hot streak into the rest of the week.
Jackson Kowar:
RFR Top 75: #6, MLB Pipeline (KC): #7, Drafted Round 1C, 2018
2019 Stats: 2 GS, 9.1 IP 0.96 ERA, 12K, 3 BB
There was some concern regarding his performances last season. They weren't particularly awful—but also weren't up to par with expectations as one of the more polished pitchers in the draft. With pitchers especially, there are too many factors to have cause for a fire and pitchfork reaction—so I'm going to leave last year in the past. As a side note, Kowar and Brady Singer are best friends, and it is awesome.
This season has shown a dramatic change, so far. Below is his game log from his first two starts. 6 K's in both, and the walks were kept to a minimum. The only major critique here are the 2 hit batters. Both times left me slightly reminiscent of the control issues he faced at Florida. Otherwise, he pitched a very good game against the Mudcats and a hitless gem against Salem.


He should be facing off against Luis Robert and Nick Madrigal of the White Sox affiliate this coming weekend—which will definitely be something to watch for.
The Worrying
I am going to omit my "The Worrying" section this week for sake of sample size. This would only be more reason for panic over issues that are usually related to small sample size and the beginning of a new season–amongst other things. However, I do plan to track players that are struggling, and those who are demoted to Wilmington.
That's all for now! Check back sometime next week for a fresh Blue Rocks Report.
Image courtesy of MiLB.com. Kowar game log courtesy of Fangraphs.