Listed at 6'0", 195 lbs. out of Cartersville, Georgia, there's not much on the baseball diamond that Anthony Seigler doesn't do well.  The University of Florida commit can hit from both sides, pitch with both arms and also displays solid skills behind the plate.  He's a charismatic young man who plays with moxy, energy and toughness.  He's also not afraid to show emotion after a big play.  He's definitely one of my favorite draft prospects to watch.  Now on to the meat and potatoes!
Although he's an intriguing prospect on the mound that can pitch into the upper 80s from both sides, Seigler figures to make his money at the professional level behind the dish.  He calls a good game, blocks the ball well, and has some pretty impressive pop times for a developing player (1.87 seconds fastest recorded in-game).  He's probably not as refined as fellow prep catcher, Will Banfield, but it looks as though Seigler will at least be average behind the dish with room for improvement.  His plus athleticism and strong-arm likely means he'll be above average or plus.
At the plate, Seigler utilizes his lower half and hand speed to produce some impressive pop.  There's not much of a load or a leg kick, but the ball jumps off his bat whether he's hitting from the right side or the left.  Some scouts see a plus hit-tool down the road, and his aptitude for the game certainly helps give him an advanced approach for a player his age.  This Spring, Seigler has shot up draft charts.  He's got some helium attached to his name, especially after his performance in the 4A Georgia State Playoffs.  During the tournament, Seilger batted .566 with 6 HRs, 14 RBIs, 16 walks and no strikeouts.  Here's a look at his swing from both sides (nearly a mirror-image):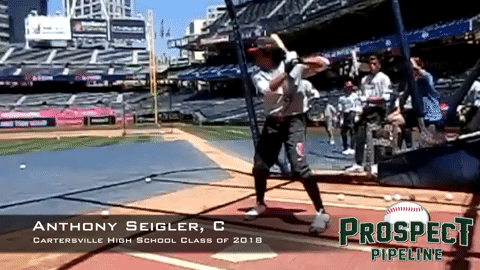 Seigler also seems to thrive under pressure.  He's played on some big stages as far as high school baseball is concerned, including the Perfect Game All American Classic in San Diego.  Another instance would be last week, the last AB of his HS career came in the bottom of the seventh of the third game of the State Championship Series.  A tweet of footage from @CarlosACollazo and one fans take on the event:
Some mocks have had Seigler going to the Royals anywhere from their second to fourth picks.  With his recent performance some expect him to creep into the first round.  It's been rumored that Cleveland is heavy on some prep bats and Colorado has been scouting him heavily.  The potential is still there to draft Seigler and try to sign him below slot which would then allow the Royals to float some highly valued players to their compensatory picks.
Some may feel this is too high to draft Seigler.  Some would point to the unsuccessful track record of drafting high school catchers in the first round.  Some might even scoff at drafting a position that may be the Royals best stocked on the farm.  I would point to the hit tool, the defensive upside and signability.  I'm also less concerned about drafting Seigler under the presumption that he will stay a catcher in the Royals system.  Seigler is athletic enough to play elsewhere, catcher is just his best position.  Ultimately my point is this:  Whoever picks Anthony Seigler on June 4th is going to be getting a heck of a baseball player, one that might just now be getting the recognition as a draft prospect he deserves.
GIF Credits: Prospect Pipeline
Photo Credits: Cartersville Baseball