The Obvious
Looking back on the 2011 MLB draft, the Royals decided to go with Bubba with the 5th overall pick, and we can obviously say now that this was a missed pick, but at the same time can we blame Dayton Moore? A potential five-tool outfielder standing 6'4" who, according to dataomaha.com, ran a 4.3 second 40 yard dash (really fast) coming out of high school and could throw a football 55 yards with two knees on the ground (really, really, really good). Who wouldn't take a chance on a guy who had plus speed, hit tape measure homeruns in high school, and could throw a football nearly 60 yards FROM HIS FREAKIN' KNEES?! Yeah, nobody. I would have pulled the trigger too Dayton, so you're good.
The Bad
Where do we start here… Bubba has had 4+ unsatisfactory years in the minors. 2012-2014 were very forgettable years for Bubba; however, his stolen bases were solid in Low-A and A+ with 22 and 17 SBs, respectively. In the Fall of 2015, he was sent to the Arizona Fall League and batted .274 with a .770 OPS. Things seemed to be turning around for Bubba and they started him the following year at AA and then AAA where he put up a combined BA of .183 with a .534 OPS (yikes). His stolen base numbers across AA and AAA for 2015 and 2016 were in the double digits which is good, but 2017 he was in AAA the whole year and proved he still has not figured out how to steal bases on a consistent basis with only 5 SBs all year. Not very encouraging for a top 5 pick from six years ago.
The Good
How about Bubba's .248 BA this past year? Yeah, definitely not something you get excited about. How about a .129 BA in April? Nope. But what if I told you his defense was already major league ready (in CF no less) and mechanical adjustments skyrocketed his May BA to .289? What is even more impressive about the spike in Batting Average was the mechanical adjustments he made.
Check out his swing from August 2016, on this swing he ripped a homer into left field with ease. Here we can see his hands are near his helmet and he is crouched as he awaits the ball.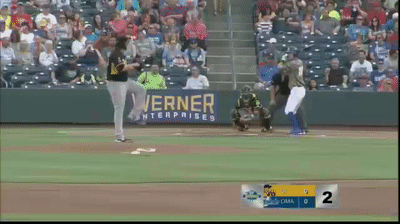 This was from June of this year, well into Bubba's resurgence. Here Bubba drives in Mondesi with an opposite field double to right, very nearly going yard. Notice how much lower his hands are now and how much more upright his stance is. Very encouraging sign coming from this 25-year old.
Summary
What everyone should expect out of Bubba for 2018 is professionalism. Whether he starts the year as an Opening Day starter (I hope he does and I will be the first to buy his shirt), in AAA, or if he is DFA'd this winter, he will take it on the chin. I believe he is someone the organization and the fans can look forward too. When he was drafted, all the scouts knew it would take time for him to come around. He was a very unpolished prep player who may have finally figured it out, now it's time (maybe his last chance) to show it.
My ceiling for Bubba would be a sub .250-.270 hitter with multiple Gold Glove awards: basically Kevin Kiermaier. The biggest knock I have on Bubba is that he is not stealing bases. This is surprising given his speed and range in center, but those who have watched him say he is not a quick twitch athlete, and he could eventually still learn to be a threat on the basepaths. Look out for Bubba patrolling Kauffman sometime in 2018.
Photo Credits: The Associated Press