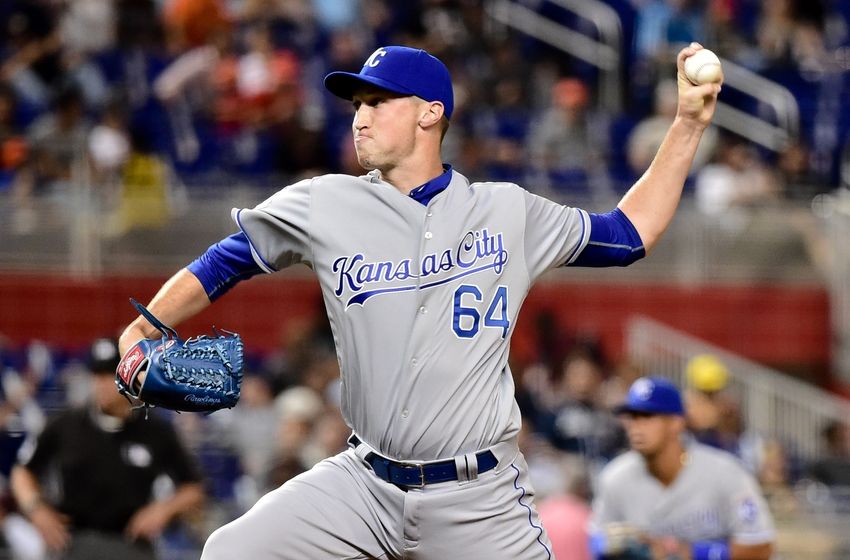 Photo Credits: Steve Mitchell/USA TODAY Sports
The Royals put to rest all speculation of selling over the next week and upgraded their pitching staff by acquiring Trevor Cahill, Brandon Maurer and Ryan Buchter from the San Diego Padres in exchange for Travis Wood, Matt Strahm and Esteury Ruiz, as reported by Robert Murray of FanRag Sports.
Source: #Royals acquiring Brandon Maurer, Buchter, Cahill from #Padres in exchange for Matt Strahm, Travis Wood, Esteury Ruiz.
— Robert Murray (@RobertMurrayFRS) July 24, 2017
Cahill, 29, will be a free agent after the season as he signed a one-year deal with the Padres last offseason. After posting a 2.74 ERA in 65.2 innings out of the bullpen with the Cubs last season, the former All-Star has transitioned back into the rotation with the Padres and has been solid. Through 11 starts, Cahill is 4-3 with a 3.69 ERA and is striking out 10.6 batters per nine innings. He is expected to settle into the back of the rotation for the Royals, where he will be a much needed upgrade, before testing free agency again after the season.
Maurer has piled up 20 saves as the Padres' closer in 2017, but he will likely serve as a setup man to Kelvin Herrera in Kansas City. The 27-year-old is under control through the 2019 season and gives the Royals a power arm that should fit nicely in the back end of the bullpen. He has a 5.72 ERA, but his FIP is 3.23, and he is only walking 1.8 per nine. Royals pitching coach Dave Eiland has done a nice job with Neftali Feliz this season, and he should be able to harness Mauer's potential and turn him into a late game weapon.
Buchter gets overlooked in this deal as he is already 30 years old and not a household name. But the southpaw has been excellent since arriving in the majors last season. He has a 2.90 career ERA and has a 3.05 ERA in 38.1 innings this season. He has a career 11.1 K/9 rate and has held left handed hitters to a .175 average this season. He is under control through 2021, so he is very affordable and controllable for the next four seasons.
The 30-year-old Wood has struggled in the first of a two-year deal signed prior to this season. The southpaw has posted a 6.91 ERA through 41.2 innings. While pitching mainly out of the bullpen, Wood made three starts for the Royals, most recently against the White Sox on Sunday, when he gave up four runs on seven hits in 4.1 innings. The Royals are paying for most of his salary – they are sending at least $7.2 million to San Diego – so they would not have to give up as much prospect volume.
Strahm, 25, burst onto the scene last season out of the bullpen and broke camp with the Royals this season. The 6'3" southpaw posted a sparkling 1.23 ERA in 22 innings in 2016 and struggled early this season. He was sent down and recalled and righted the ship, but was not as dominant as he was last season. He also made three starts for the Royals this season before a torn patella tendon in his left knee that required surgery ended his season. The Padres will control Strahm through the 2022 season and can use him either out of the bullpen or as a starter, though he will not pitch again until next season.
Ruiz is an 18-year-old second baseman who signed with the Royals for $100,000 out of the Dominican Republic in 2015 and has done has done nothing but hit since making his pro debut. He is tearing up the Arizona League this season with a .419/.440/.779 slash line through 91 plate appearances in 21 games. Scouts have praised him for his ability to make steady, consistent contact and should profile as an offensive-minded second baseman down the line.
Already hearing a lot of buzz on Esteury Ruiz from evaluators who have seen him in Arizona. Really young but wiry strong. Good upside play.
— Jeff Passan (@JeffPassan) July 24, 2017
He was not ranked in the Royals Top 30 Prospects according to MLB Pipeline before the season, though that would have likely changed when the lists are revamped later this week. I know my colleagues here are high on him, and it will be interesting to see how he develops. He could be the big ticket for them.
The early analysis says the Royals did well with this trade. They are trying to win now, and they needed to shore up the pitching staff. This trade does that while also obtaining two controllable bullpen pieces. The Padres are not going to be contending anytime soon, and Strahm and Ruiz give them two assets they can look to contribute down the line.
In terms of the Royals' farm system, Ruiz could have been a highly rated player had he continue to perform as he moves up the ladder. But while Strahm has a bright future ahead of him, he is no longer eligible for prospect lists. The Royals addressed multiple needs without subtracting a lot from a farm system that really cannot afford to do so.